Player Roster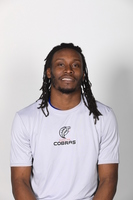 Active
Antwan Hadley
#8
Position:
DB
Date of Birth:
06/30/1994
Height:
6' 4"
Weight:
205 lbs
Pro Experience:
Rookie
College:
University of Nebraska
Birthplace:
Fort Worth, TX
Biography:
Hadley Signed with the Carolina Cobras February 4, 2018 for his first season in arena football. (Carolina: 2018 - Present)
Pro Experience
College
Hadley finished his college career with the University of Nebraska-Kearney Lopers in Kearney, Nebraska from 2015-2016. As a junior and in his first season with the UNK Lopers, Hadley was considered one of the team's best defensive backs by finishing the season with 32 tackles (23 solo), two interceptions (one being a 67-yard interception return touchdown against Central Oklahoma) and two pass breakups. During his senior season, Hadley played cornerback and some safety for the Lopers. Hadley started in all 11 games, was an honorable mention in All-MIAA, fifth on the team in tackles with 43 (23 solo), three interceptions (two for touchdowns) and eight pass breakups. Prio to playing for Nebraska, Hadley played for Butler Community College in El Dorado, Kansas from 2013-2014. In 2014, Hadley was fourth on the team in total tackles with 73 (34 solo/1.5 TFL), had seven pass breakups, one interception, elected to the Second-Team All-Jayhawk Conference and helped the BCC Grizzlies to an 8-3 record
Personal
Hadley was a native of Lake Wales, Florida and played high school football at Lake Wales High School.