Player Roster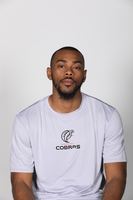 Inactive
Tyron Laughinghouse (Injury Reserve)
#10
Position:
WR
Date of Birth:
07/03/1988
Height:
6' 1"
Weight:
185 lbs
Pro Experience:
2 Years
College:
Saint Augustine University
Birthplace:
Greenville, NC
Biography:
Signed with the Carolina Cobras on February 22, 2018 for his third year in arena football. (Wichita Falls (IFL): 2016-2017, Carolina: 2018-Present)
Pro Experience
2018: Signed with the Carolina Cobras for his third year in arena football.
2017: Played his second season with the Wichita Falls Nighthawks and helped the team to a 12-4 record.
2016: Laughinghouse was second on the team in receptions (63), receiving yards (806), and receiving touchdowns in 2016 (14). Laughinghouse also finished in the top 10 in the IFL in several receiving categories: receptions (9th), receiving yards (7th), receptions per game (8th), yards per game (8th), and yards per catch (7th). Laughinghouse tied with one player for the IFL's longest reception of the year by catching a 49-yard touchdown on March 14th against the Colorado Crush. In that game, Laughinghouse set the IFL single game receiving yards record with 166.
College
Laughinghouse attended Saint Augustine University in Raleigh, NC and was a receiving threat as a freshman named to the All-CIAA rookie squad. His senior season with the Falcons, Tyron had 59 receptions for 801 yards and 12 touchdowns. To top off his career at St. Aug, Laughinghouse was All-CIAA First Team Kick Returner and was ranked sixth in Division II in kick return average.
Personal
Laughinghouse is a native of Greenville, NC and graduated from Rose High School.