Player Roster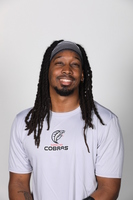 Active
Philip Barnett
#11
Position:
WR
Date of Birth:
06/03/1990
Height:
6' 2"
Weight:
215 lbs
Pro Experience:
8 year pro
College:
University of Toledo
Birthplace:
Middletown, OH
Biography:
Sign with the Carolina Cobras January 31, 2018 for his eighth season in arena football.(Carolina: 2018 - Present, Cleveland: 2017, Wichita: 2017, Tampa: 2015-2016, Nashville: 2015, Texas: 2013, Cincinatti: 2012)
Pro experience
2017: Barnett played two games for the Cleveland Gladiators. In those two games, he had nine receptions for 79 yards. Barnett aslo played for the Wichita Falls Nighthawks, where he played for the current coach Billy Back. WIth the Nighthawks, Barnett recorded 41 catches for 320 yards and eight touchdowns. 2016: Barnett played for the Tampa Bay Storm. He recorded 70 receptions for 687 yards and 13 touchdowns . 2015: In his first year with Tampa, Barnett recorded 34 catches for 339 yards and nine touchdowns . Earlier in 2015, Barnett played with the Nahsville Venom, Barnett was reunitted again with coach Billy Back. 2013: Barnett played with the Texas Revolution when Back was their head coach. 2012: Barnett played with the Cincinnati Commandos. 2011: Barnett spent his rookie season with the Cincinnati Commandos.
College
Finished his college career at the University of Toledo.
Personal
A native of Middletown, Ohio, where he played for Middletown High School. As a senior, he broke Chris Carter's single season TD record.