Player Roster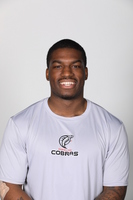 Active
Tyrell Goodman
#5
Position:
WR
Date of Birth:
07/05/1991
Height:
6' 2"
Weight:
215 lbs
Pro Experience:
1 Year
College:
Akron
Birthplace:
Yonkers, NY
Biography:
Sign with the Carolina Cobras December 7, 2017 for his second season in arena football. (Carolin: 2018 - Present, Wichita Falls: 2017)
Pro Experience
2017: Played for the Wichita Falls Nighthwaks where he caught two catches for 25 yards and one touchdown.
College
Finished his college career at the University of Akron where he played in six games as a quarterback, wide receiver, and kick returner. As quarterback, Goodman threw 17 passes for 284 yards, two touchdowns and rushed for 37 yards. As receiver Goodman hauled in 45 receptions, 475 yards and six touchdowns.
Personal
A native of Yankers, New York where he played for Archbishop Stepinac High School. As a senior he won Class-A New York State Player of the year, Madison Square Garden Player of the year, Journal News Player of the year, First-Team All State, First-Team All-Borough, First-Team All-CHSFL and First-Team All-City.