Player Roster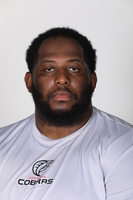 Active
Anthony Jackson
#55
Position:
OL
Date of Birth:
01/20/1987
Height:
6' 5"
Weight:
370 lbs
Pro Experience:
3 Years
College:
Arkansas State
Birthplace:
St. Louis, MO
Biography:
Sign with Carolina Cobras December 20, 2017 for his fourth season in arena football. (Carolina: 2018 - Present, Wichta Falls 2016, Nashville: 2014-2015)
Pro Experience
2017: Helped the Wichita Falls Nighthawks to a 11-5 record also helped produce 3,621 passing yards and 67 touchdowns. 2015: Played for the Nashville Venom helped the team to a playoff apperance. 2014: Started for the Nashville Venom as a rookie helped the team to a American Conference Championship victory.
College
Finished his college career at Southwest Baptist Unversity helped the team record 2,239 rushing yards and 51 touchdowns. Prior to SBU, Jackson played for Arkansas State where he played as a defensive lineman.
Personal
A native of St. Louis, Missouri, where he played for Hazelwood East High School. At Hazelwood he was a All-State, All-Conference, and first team All-District.