Player Roster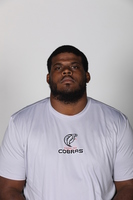 Active
Jordan Mosely
#99
Position:
OL
Date of Birth:
10/18/1990
Height:
6' 3"
Weight:
330 lbs
Pro Experience:
5 Years
College:
Johnson C. Smith University
Birthplace:
Columbia, SC
Biography:
Sign with Carolina Cobras December 8, 2017 for his sixth season in arena football. (Carolina: 2018 - Present, Wichita Falls-Arizona: 2017, Green Bay/ CAFL: 2016, Nashville: 2015, Cedar Rapids: 2014, Northern Kentucky: 2013)
Pro Experience
2017:Finished the year with the 2017 IFL Champion Arizona Rattlers. 2016: Played for the Green Bay Blizzard where he earned Offensive Lineman of the year, following the end of the IFL season Mosley played in the CAFL with the Dalian Dragon Kings. 2015: Played for the Nashville Venom helped the team to a 7-4 record and PIFL playoff berth. 2014: Mosley played for the Cedar Rapids Titans. 2013: Played for the Northern Kentucky River Monsters of the CIFL. 2012: Molsley was undrafted NFL free agent and attended Ney York Giaants Rookie Minicamp.
College
Finshed college career at Johnson C. Smith University helped the team to over 3,900 yards in both his seasons there and helped JCS to their first 1,000 rushing yard season since 1991.
Personal
A native of Columbia, South Carolina, where he played for Spring Valley Prep High School.