Player Roster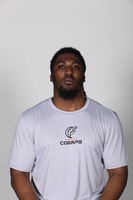 Active
Jordan Jolly
#4
Position:
WR
Date of Birth:
09/08/1991
Height:
6' 2"
Weight:
205 lbs
Pro Experience:
5 Years
College:
Navarro College
Birthplace:
Missouri City, TX
Biography:
Sign with Carolina Cobras December 5, 2017 for his fifth season in arena football. (Carolina: 2018 - Present, Wichita Falls: 2016-2017, Nashville: 2014-2015, Texas: 2013)
Pro Experience
2017: Led the IFL in receptions (97), reciving yards (1,110) and yards per game (69.4). Jolly aslo finished the season second in the IFL in touchdown receptions (21) while playing for the Wichita Nighthwaks. Jolly was named First Team All-IFL in back to back seasons from 2016-2017. 2016: Jolly finished the year with 90 receptions for 987 yards and 17 touchdowns, and finsihded in the top 10 in the IFL in receptions (2nd), receiving yards (4th), receiving touchdowns (10th), receptions per game (1st) and yards per game (3rd). Jolly helped the Nighthawks offense record 62.6 points per game, 298.6 yards per game and 226.3 receicing yards per game.2014-2015: Played for the Nashville Venom helped the team win their first professional indoor Football League title. In the championship game, Jolly recorded 10 catches for 156 yards and three touchdowns. 2013: Played for the Texas Revolution. Jolly won Offensive player of the week for his performance agaisnt the Green Bay Blizzard. Recording 10 catches for 162 yards and three touchdowns. Jolly was leading the team in total yards (471) and yards per game (52.3) and ranked second on the team with 10 touchdowns on the year.
College
Finshed college career at Navarro College. In 2012, Jolly was part of the highest scoring team in school history with 521 points/ 43.4 per game.
Personal
A native of Missouri City, Texas.