Player Roster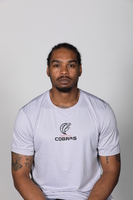 Active
Charles McCullum
#1
Position:
QB
Date of Birth:
08/15/1984
Height:
6' 3"
Weight:
205 lbs
Pro Experience:
8 Years
College:
Stillman College
Birthplace:
Atlanta, GA
Biography:
Sign with Carolina Cobras December 5, 2017 for his eighth season in arena football.(Carolina Cobras: 2018 - Present, Wichita Falls: 2016-2017, Nashville: 2014-2015, Cedar Rapids: 2013, Kent/ Seattle: 2010-2011)
Pro Experience
2016-2017: Played for the Wichita Falls Nighthawks and recorded 6,008 passing yards for 87 touchdowns , 408 rushing yards and 23 touchdowns and was named IFL's MVP for both the 2016 and 2017 seasons. 2014-2015: Played for the Nashville Venom where he led Nashville to back to back playoff appearances and to the league championship game in 2015.2012-2013: McCullum played for the Cedar Rapid Tititans and helped the Rapids to a 2013 United Confernece Championship after recording 30 touchdowns and completing 109 of 190 passes in 10 games. 2010-2011: Played his rookie season with the Kent Predators and Seattle Timberwolves where he spent two seasons. During time with the Timberwolves he recorded 1,907 passing yards and 45 touchdowns and 587 rushing yards and 19 touchdowns.
College
Finished his college career at Stillman College. As a sophmore he passed for 1,470 yards with 11 touchdwons and four interceptions while rushing for 308 yards. During his junior year, he recorded 2,103 yards with 18 touchdowns and seven interceptions and 330 rushing yards.Prio to Stillam, McCullum played for FAMU where he played in five games, recording 42 passes for 203 yards a touchdown and 54 rushing yards. He was the first freshman quaterback to bring FAMU to a victory over Tennessee State in 25 years.
Personal
A native of Atlanta, GA, where he played for Frederick Douglass High School. He was part of a football program that helped produce NFL players like Jamal Lewis and Ahmad Carroll.